There's no such thing as "too granular" in the world of Internet marketing. Building a successful Internet marketing lead generation campaign requires so many tiny elements working together successfully, and it can be difficult for a business to keep track of them.
It's a lot like building a watch, with dozens of gears and springs fitting together to function with precision and reliability. If a business's Internet marketing campaign is missing any of these essential components, it's less likely to be successful.
That's why it's extremely valuable to have a clear understanding of what all of the essential components of an Internet marketing campaign are and how they fit together. At Straight North, an Internet marketing firm based in Chicago, we've been devoted to figuring out what makes a successful Internet campaign tick, and in studying them for our clients we've developed a visual representation of that.
Many Internet marketers focus exclusively on inquiries generated by the forms on their websites, but this ignores the many people who still prefer to conduct business on the phone.
Without recognizing that crucial piece of the puzzle, marketers risk missing out on a significant portion of the inquiries their campaign is generating, which naturally means a significant amount of lost sales. Likewise, many businesses forget about the importance of off-site content as a means of generating interest in their services or products.
Additionally, many marketers forget how important lead validation is to the entire lead generation process. Nearly half of all inquiries generated by websites actually don't fall into the category of true sales leads. These can be job applications, incomplete form submissions and other dead ends — yet many businesses don't bother to separate them and count all inquiries as potential leads.
This can lead to wasted resources and missed opportunities while businesses attempt to replicate "success" that doesn't really exist. Without understanding where lead validation fits into the lead generation ecosystem, your business could fall into the same trap.
The infographic below illustrates how the lead generation ecosystem fits together and works in harmony to create the end result of a new customer. This blueprint, of sorts, contains all of the elements of a successful lead generation campaign, and highlights the connections that make it successful from the beginning to the end. By studying and understanding this blueprint, businesses can compare it to their campaigns and identify whether or not they are missing any crucial components.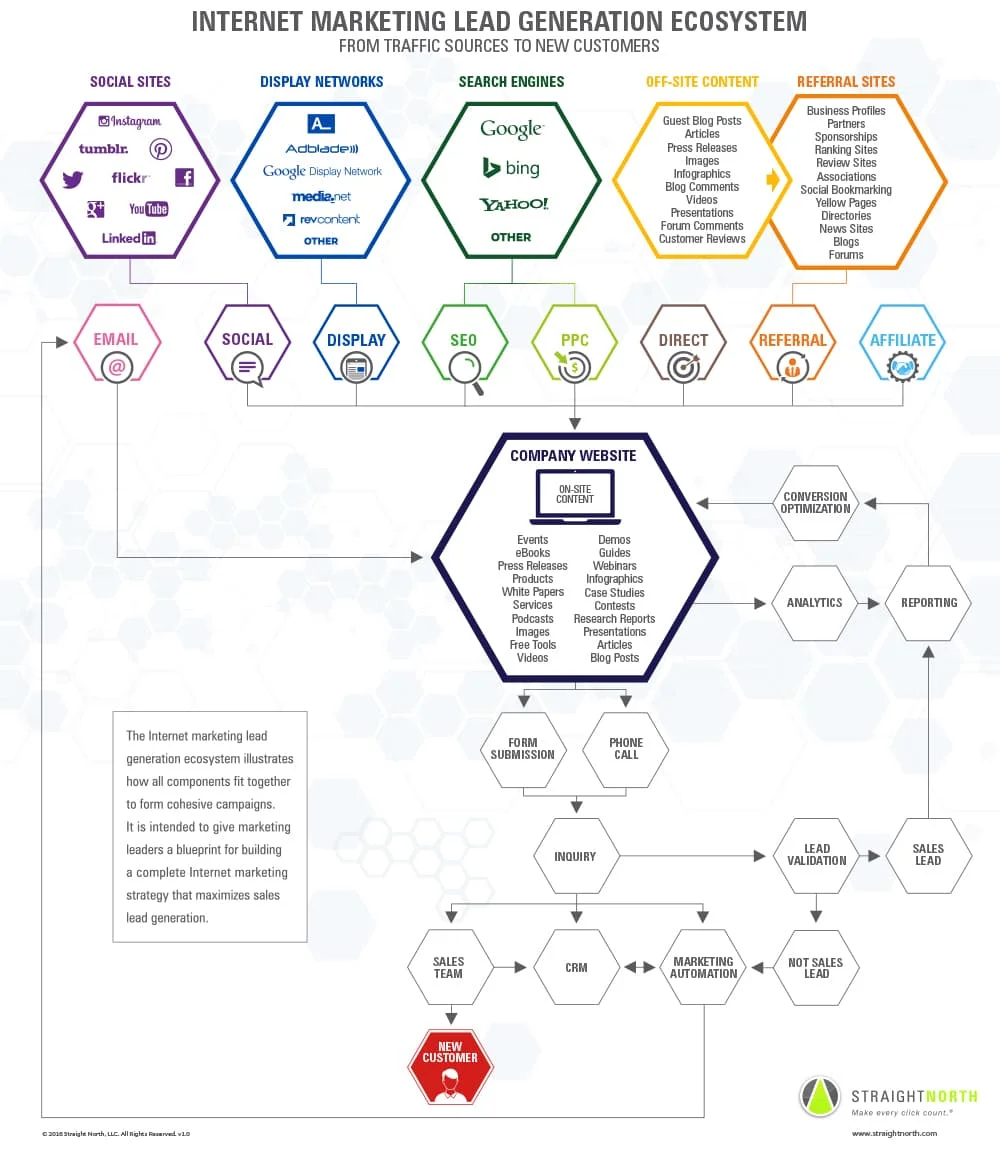 Infographic created by Straight North, an internet marketing firm
We hope this information was helpful! Comment your thoughts below.
This post has been seen 808 times.